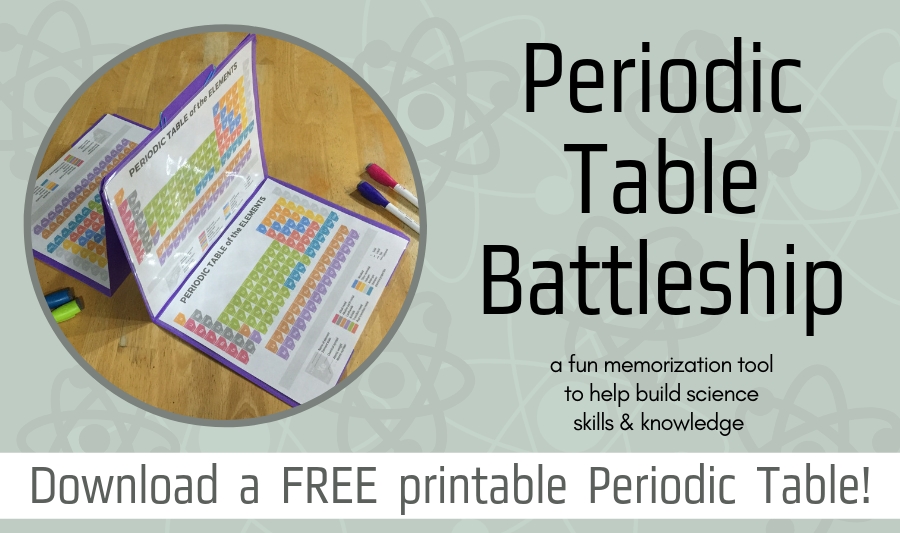 National Periodic Table Day lands annually on February 7th. On this day in 1863, a chemist named John Newlands created and published the first known table of elements. Of course, at the time, there were only 56 entries on the table—whereas currently, we know of 118 elements.
So what exactly is an element, and how is the chart useful to us today? H2O isn't just a quick way to jot down a term for water. Science defines an element as a substance completely made from one type of atom. Take hydrogen from our water formula above for example, hydrogen, charted as H1 is simply made from atoms containing one proton and one electron. Should one tinker with that and change the numbers of the protons, it would no longer be hydrogen.
The periodic table is helpful because it takes all of the known elements and arranges them in rows and groups, left to right, according to their atomic number. Elements with common properties are listed in the same column or group, and the elements with the same number of electrons are in the same row or period. Many charts go a little further and color code the rows and groups as well.
So how do we take this seemingly mind-boggling chart—that simply has to be memorized—and make it fun for our kiddos?
Several years ago, I ran across the idea of turning the periodic table into a Battleship-style game. My kiddos were still quite young; I kinda filed it on the back burner in my brain. Over the years my kids and I have dabbled with chemistry here and there, but I hadn't made them memorize the periodic table … yet.
With my oldest now in high school, I figured I'd better get on it.
Most kids love a good game, though, so I don't know why I've waited so long. I should have done it years ago … they would have just grown up knowing why I abbreviate water all the time! Searching Google now brings up multiple sites, so I honestly don't know who deserves credit for the original idea. No doubt it was a devoted parent and/or educator, wanting to make school a little more fun for children!
Needed supplies:
Four laminated copies of our Periodic Table of the Elements
Two file folders
Paper clip to hold the two game folders together
Dry erase markers
Hot glue gun to attach laminated charts to each folder
Assembling your game boards:
Take your laminated periodic element charts and hot glue them to the insides of your folders, one above the other. Now take the paperclips and attach the two folders at the top. Pull the bottom of the game boards about 2 inches apart so they will stand up.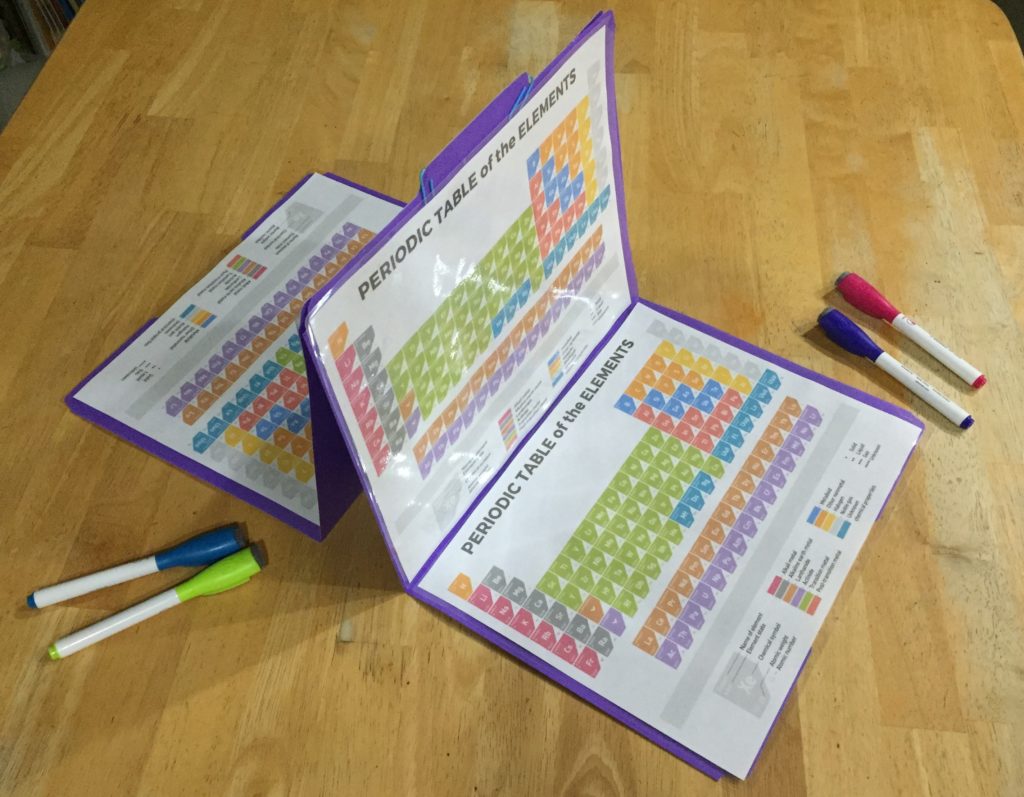 Directions for play:
Each person takes their dry erase markers and plots out their ships. Just like the Battleship game you remember playing as a kid, you get five  ships that represent a certain number of board spaces in a row: an aircraft carrier (5 spaces), battleship (4), cruiser (3), submarine (3), and a destroyer (2).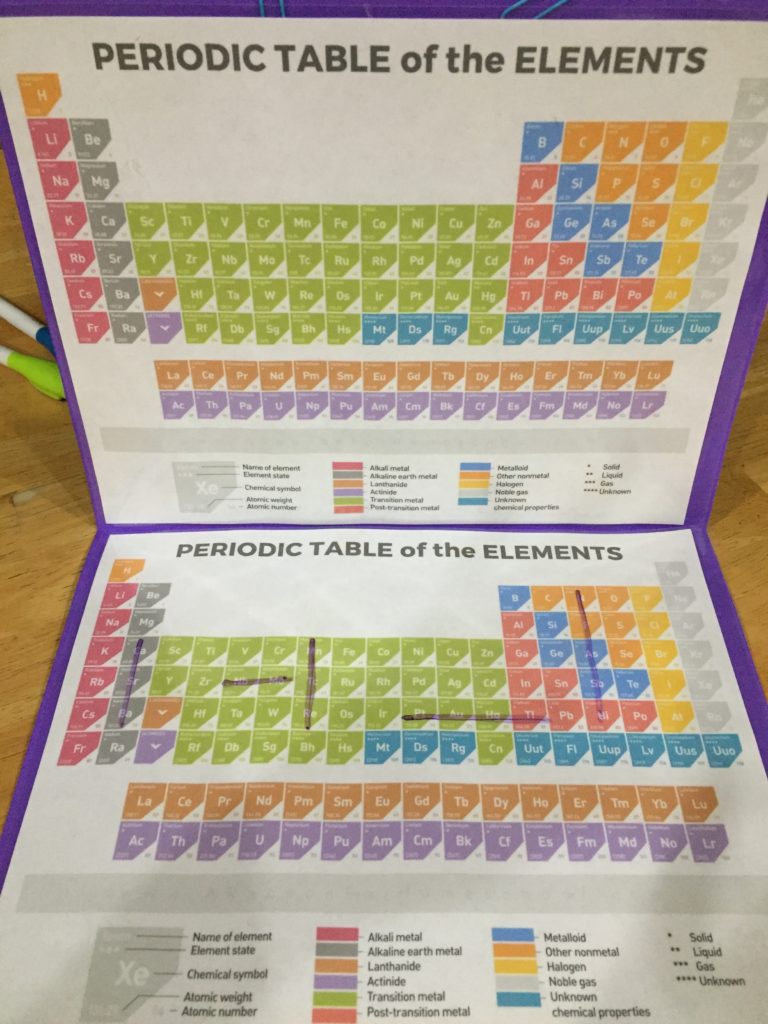 Using the dry erase marker, I just draw a straight line through the consecutive squares (but I'm sure my artsy gal is going to draw little ships). Once you get your five "ships" plotted, it's game on!
Each player takes turns calling out an element. In order to memorize all the info you want them to know for chemistry classes, have them call out each of the three important parts of the element; for example, "Hydrogen, H, 1."
The player who called it out plots an "X" on the top sheet on their own board, so they will know which elements they have already used. 
The player being asked marks an "X" on the bottom sheet, where their ships are also plotted. They also need to specify whether the element was a "hit" or "miss" so the one asking will know if they hit a ship. If they did hit a ship, the player asking needs to then circle the "X" they just marked down, to indicate it was indeed a hit.
Once a ship is sunk—which happens when all of the spaces plotted out for the ship have been hit—the player needs to report that to the other player, as well. The winner is the first one to sink all five of their opponent's ships.
Kick those winter blues to the curb and surprise your children with this entertaining, educational game … it's bound to be a blast!
---
For another fun and very informative Periodic Table activity,
check out this interactive online version.
---
Download your free copy today:
Periodic Table of the Elements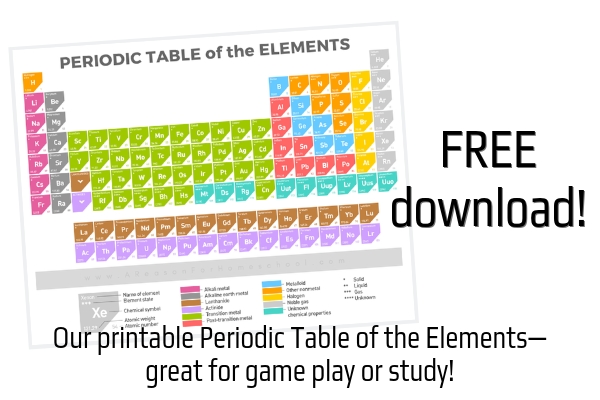 Browse Bridgitt's posts
for lots more educational games
& learning ideas!